Scotlands Premier Ford Event in Scotland for 2010.
Visiting Club Stands available.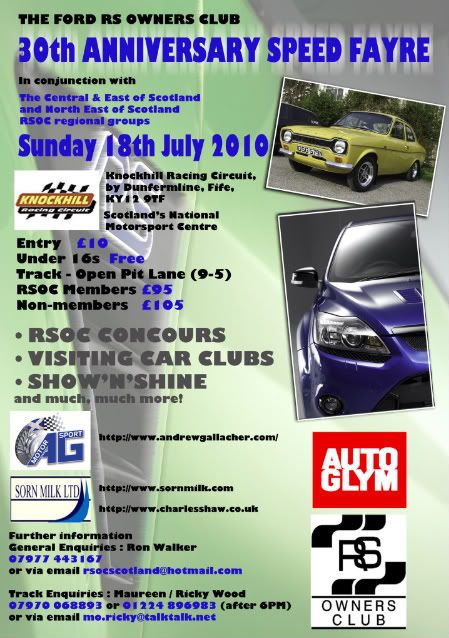 ---
No restrictions on car types for track.

Open pit all-day.
---
---
---
Was up at Knockhill today with the RS and not another member to be seen,Left at 2.30 and had a good run to Stirling then Kincardine bridge and home.Cars chapping like an old tractor by the time I got home and hopefully its only a follower but there's one concelation of today, The HS was sold to a lad I met at Knockhill so that makes the day worth while.
Dave.
---
Old Skool Master

Posts: 1960
Joined: Sat Nov 25, 2006 5:51 pm
Location: inverness, where the men are men, and the sheep are worried
nice car the hs davie, are you havin a clear out son
sideways is the only way forward
---
Yes Norrie,Her indoors is giving my ears a wee nipping, Having the Hs,RS,RS1700T,mk3 for spares,Sierra Cosworth lookalike, MK1 Fiesta Cabriolet lying around she seems to think I have too many toys,Never too many toys I keep telling her but the old foot is getting put down.
Dave.
---
Here is a list of the Local Groups & Clubs booked for Knockhill on Sunday.

Local Groups

Northumberland
Shropshire
Tyne & Wear
East Yorks
West of Scotland
Derbyshire
Durham
Cleveland
Nottingham/Mondeo Owners
Central & East
North East of Scotland
Focus RS Owners (RSOC)

Visiting Car Clubs

Scottish Capri Club
Independent Capri Enthusiasts
Fiesta STOC
Ford STOC
Focus ST Owners
AVO
RWD Club

Stalls

Autoglym
2 x Auto Spares/Auto Jumble
Autosmart
RSOC Regalia
Wheels Around (Tyre Lorry)

Track

At the last check there was circa 80-85 track applications received.

Hope to see you all there!
---
Sorry lads I don't get home until Sunday night so I will miss it.I will catch up with everyone on the tour.
Dave
---
WILL BE THERE WITH A STALL......................
www.fwoodspares.co.uk
---
Who is online
Users browsing this forum: No registered users and 1 guest